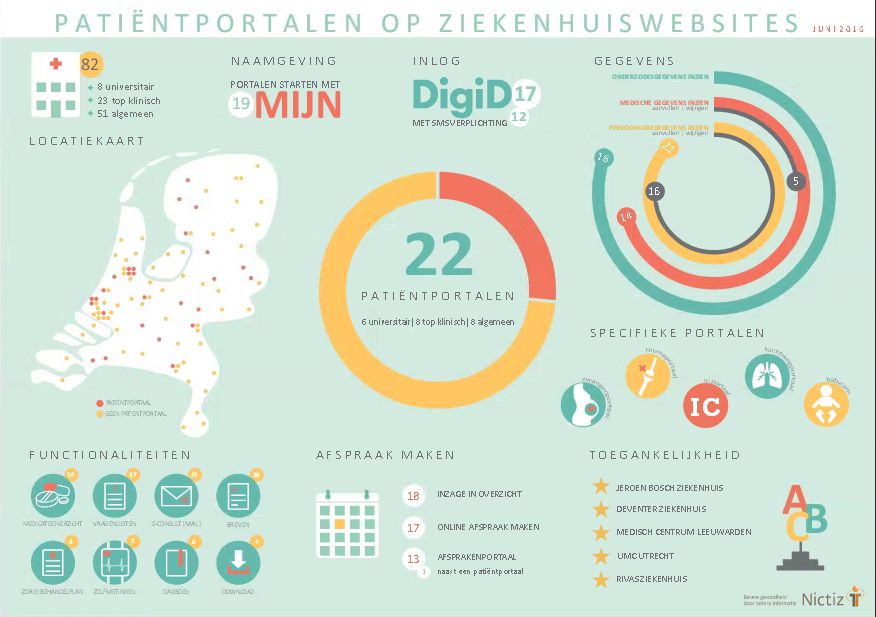 Op 18 augustus publiceerde de NOS het artikel 'Kwart ziekenhuizen laat patiënt gegevens online inzien'. Hierin wordt gesteld dat een kwart van de ziekenhuizen patiënten de optie biedt online de eigen gegevens in te zien via een patiëntenportaal.
Volgens onderzoek van het NICTIZ – het expertisecentrum voor standaardisatie en eHealth – zijn ziekenhuizen met een inhaalslag bezig op het gebied van de informatievoorziening aan patiënten. Het onderzoek laat zien dat op dit moment 22 van de 82 ziekenhuizen een patiëntportaal aanbiedt – dat is iets meer dan een kwart. Van die 22 patiëntportalen is het bij zeventien mogelijk een online afspraak te maken. Bij veertien ziekenhuizen kan de patiënt medische gegevens inzien, bij zes het zorg-/behandelplan raadplegen en bij drie zelf metingen toevoegen.
Het zijn weliswaar bescheiden cijfers, maar ze geven wel aan dat er een beweging in de zorg aan het ontstaan is. Het sluit ook naadloos aan bij onze bedrijfsmissie rond 'Patient-Empowered Collaborative Care'. De patiënt krijgt meer en meer de regie over zijn eigen zorg, waardoor ook de rol van de zorgverlener verandert. De bekende Amerikaanse medicus Eric Topol signaleerde deze trend al in 2015 in zijn beroemde boek 'The patient will see you now'. Door de toenemende informatievoorziening komt de patiënt zelf aan het roer en verliest de zorgverlener de rol van de allesweter.


Patiënten kunnen door de opmars van portals niet alleen eenvoudiger gegevens raadplegen die een zorginstelling verzamelt, maar ook zelf data verzamelen met een eigen bloeddruk- of suikerspiegelmeter of de steeds populairdere wearables, zoals stappentellers. Het wordt de kunst om de gegevens die deze apparaten registreren, zo te verzamelen dat alle partijen – patiënten én zorgverleners – er toegang toe hebben.
Deze toename van data is nog een van de grotere bottlenecks in eHealth. We zien nu dat ziekenhuizen hun portals openstellen, maar daarmee blijven nog wel vragen onbeantwoord. Wat als een patiënt een behandeling krijgt in verschillende ziekenhuizen? Een reëel scenario nu ziekenhuizen zich in toenemende mate specialiseren. En hoe zit het met de patiëntdata die bij huisartsen, apotheken en fysiotherapeuten wordt bewaard? Gaan we patiënten vragen om bij al zijn zorgverleners steeds apart in te loggen in een losstaande portal? Het antwoord op die vraag ligt voor de hand: dat wil niemand.
Wat dus hard nodig is, is maximale interoperabiliteit van zorgdata. Alleen dan is het mogelijk om data echt te delen onder alle betrokkenen. Die interoperabiliteit is nu nog vooral gericht op informatiedeling tussen zorgverleners onderling. Dat zal snel veranderen: ook de patiënt gaat hier zijn rol opeisen en wil even gemakkelijke toegang.
Daarbij is het overigens goed om te zien dat de algemene gedachte dat de patiënt eigenaar is van zijn data, geen punt van discussie meer is. Dat zal ook het uitgangspunt moeten zijn voor de toekomstige ontwikkelingen. Als de sector erin slaagt om echt werk te maken van interoperabiliteit en de initiatieven en middelen op dat gebied omarmt, wordt er veel mogelijk. Het zal in ieder geval leiden tot een totaal andere werkwijze in de zorg. Een werkwijze waarbij de patiënt vaak over evenveel en soms zelfs meer informatie beschikt dan de zorgverlener. Deze laatste zal zich zoals gezegd dan ook steeds nadrukkelijker ontwikkelen als een gezondheidsadviseur, die patiënten helpt de juiste keuzes te maken op basis van alle beschikbare informatie.
Deze trend is door alle resultaten van het NICTIZ-onderzoek heen langzamerhand zichtbaar aan het worden. En dat is goed nieuws.
Dit artikel verscheen eerder op Digitale Zorg Magazine
Infographic: Nictiz